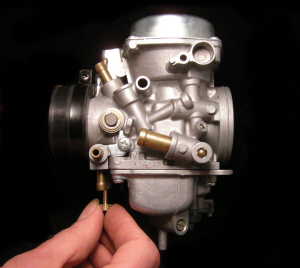 Long Boy Fuel Screw $23.95
pn: CRZ-SCR-4010-K
with new spring, washer and o-ring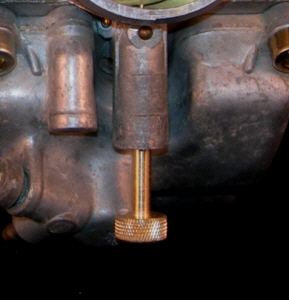 "Long Boy"
Single carb VT600c / VTX1300 hand adjustable Fuel Screw assembly
Frustrated with trying to find an "almost 90 degree" screwdriver with a "D" socket to fine adjust your fuel screws for best idle and cruise?
Use Factory Pro's new "finger adjustable" fuel screw to adjust idle and cruise fuel mixture for best throttle response. Traveling to high altitude? It's easy to lean out the lowend temporarily.
Make your life easier.
Installation:
Remove old short stock fuel screw, old o-ring, old washer and old spring. The o-ring might be stuck in the carb, so, take a light and make sure it's really out if it didn't come out with the screw (or you can't find it after you took out the screw)
Use a small bent wire to pull it out if it doesn't drop out. Keep the old parts for "spares".
1 VTX 1300 screw assembly comes with:
1 Long Boy fuel screw CRZ-SCR-4010-K
1 new o-ring
1 new washer
1 new spring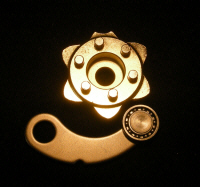 SHFT-EVO-H80-KT $189.95
all years at least until 2013
includes:
New FP Shift STAR and FP Detent Arm. Uses the stock detent spring.
Clutch cover gasket not required, as Honda seals the clutch cover with 3 ThreeBond 1104 or HondaBond or YamaBond or SuzukiBond or KawaBonda or similar non-hardening sealant.
Factory Pro's famous
VTX Evo Sift STAR kit
Myth:
Big, strong cruisers have big transmission gears and they generally shift "lazily" and clunkily, unless you use "exactly the "right" rpm and throttle.
Reality:
If you ever make a quick shift and feel and hear the gears grind / ratchet before maybe engaging - that is what causes shift fork and gear damage - especially in 2nd gear.

The EVO Shift STAR kit - It's everything that I ever wanted to do to a shift mechanism -
A new FP MicroBearing detent arm and the final piece... A completely redesigned, empirically refined, multi angled, variable radii, repeaked and valleyed FP Shift STAR.
This kit will totally change the feel of the bike as a whole. The shifting effort is about the same - but the speed at which the gears actually engage is dramatically improved - Quicker, easier, shifting - A "twitch" on the lever and the throttle and you are in the next gear. Perfect for track use and road riding for effortless downshifts into a corner and just a "tap" to upshift without any more than a "twitch" off the throttle -
Missed shifts virtually disappear.

In town? Low rpm cruise in second - shift to third? Quicker and smoother - NO more clunky, lazy shifting in town - it's different and improved.
Proven concept - Virtually all the Factory Pro Support riders in the AMA and WERA multi- Champions Vesrah Racing tested and proved the EVO-7 Stars.

Kit includes a new detent arm with a low friction microbearing roller and the NEW Factory Pro EVO Detent Star.
It's an inexpensive kit that will smooth out shifting over stock and help prevent shift fork damaging missed shifts.
NOTE!
We do not yet have detailed instructions - and need a bike to take pics of and write up an Install Page.
If you are local to San Francisco and can spare a day, we will install the kit for 25% discount on labor.
415 472- 4962 Marc or Raul
Installation:
Difficulty scale: 5 on a 1-10 scale
Normal hand tools
Threebond, Hondabond, Kawabond, Yamabond non-hardening gasket sealer.
EVO Shift Star and Microbearing Detent Arm only require the removal of the clutch cover. The Star, Arm and Spring are easily accessible. 60 minutes work + cleaning the gasket surfaces.

CRB-H80-3.0-TH
$69.95

03-09
OR SPECIAL Carb Kit + LONG BOY
DEAL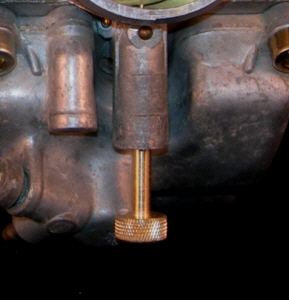 03-09 CRB-H80-3.0-TH + Long Boy Fuel Screw

$89.95


.................................................................

#60 Pilot Jet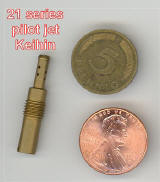 Our carb kit supplies a #58 and this is the optional 60 pilot jet
that some bikes or people want




feedback

Dear factory pro,

sorry for feedback delay, put on my bike and forgot to leave it. I tightened u up with 5 star and just wanted to personally thank you again, man that kit was the ticket
glenn


August 2012

Feedback

I recently purchased your jet kit & Longboy screw for my 07 vtx 1300, after trying to get my setup right with the Barrons BAK jet kit for 6 weeks, with no luck. I put Factory Pro jets and needle in, and Jackpot. my first setup seemed to hit the nail right on the head. I will never fight with another companies jet kit again. From now on its only Factory Pro.

Final setting for 2007 Honda VTX 1300 - 215 Main jet - 58 Pilot jet - clip on 4th notch of needle - A/F screw 1 3/4- 1 7/8 turns out -100 % humidity - Average temp 95 degrees - 100 ft above sea level
Thanks for a great product Factory Pro.
Joe Meoak
Minneola FL