Harley Davidson Twin Cam Engine tuning
Factory Pro's EC997 Dyne Systems were specifically designed to have the ability to effectively tune fuel injection systems. Other common "dealership level" dynamometers are descended from heavy, slow reacting inertia dynos that have inflated, untrue HP numbers.
They only "tune to an af ratio" and not to where the engine runs the smoothest or has the best power or mileage or cleanest exhaust.
Locally, we enjoy specialization in dealer referred tuning on Harleys.
Listed are recent projects that we've tuned for local HD dealers.
We don't sell or install HD engine parts or do retail HD tuning - we just do the tuning.
We can tune with:
ECU Programmers

HD Race tuner
This is the preferred method is to reprogram the stock ECU. It takes more time, but the improved long tern reliability and enhanced tuning flexibility is the gain.
From a tuner's point of view, the HD Race Tuner takes the longest, but is less troublesome than other ecu flashing software offerings.
After completing the tuning session, both the Directlink and HD Race Tuner provide equally reliable and long lasting service for the rider. We have no problem using either of the products.
There is an initial cost to each. The Directlink requires a fixed cost key that would retail for about $250 to $300. The HD Race Tuner costs $400 to $500. A good tuner may spend 3 to 5 hours to tune to Best Power and will probably charge up to $500 additional tuning time for the highly skilled custom tuning work performed on $50,000 to $100,00 worth of equipment.

We don't do it, but some people still push a button on their common "dealership level" dyno and automatically "tune to an a/f ratio" with a power commander and call it done. That takes a lot less time, and doesn't result in optimum tuning or best mileage.
Add-on boxes

Teka 4 usb and Power Commanders
We do both (section under construction)
Other FI systems
Factory Pro has been tuning fuel injection for many years. We even design, build write software for the EC997 dyne system. The EC997 is probably the most purpose built tuning dyno in the world - with many features exclusive to our dyne systems, all provided to make tuning to Best Power settings (rather than common, low tech dealership level "tuning to an a/f ratio" dynos.)
We've used complicated systems, such as Magnetti Marelli, Delphi, Motec, EFI Technologies (the California one), factory Kawasaki, Yamaha, Suzuki and Honda - so, I believe that we can figure out most any FI system.
Outside services
Factory Pro's Marc Salvisberg is available to consult on software interface development. The secret to making desirable software is indeed the interface.
Factory Pro's EC997 dyne system software is a prime example of design. It requires very little book study to accomplish the tasks that a tuner would need to do. All with a progressions of simple screens and simple, on screen instructions. A new user can accomplish, with little training, do what would take a college educated engineer to do on some other, otherwise capable, dyne systems. Email comtact
Recent services performed
2005 FLTR1 Barber

Base 88ci with SE air cleaner and slipon exhaust:
69 TRUE HP at 6000
74 ftlbs at 4000

Final 95ci SE heads, cams, SE ac, slipon exh with fuel and ignition timing with Directlink
83 TRUE HP at 5500
93 ftlbs at 3500

Tuned April 08, 2006 at Factory Pro Tuning Center in San Rafael, CA using Directlink. 6 hours tuning.

Comment:
Excellent engine package.

Same HP and torque as base from idle to 2500 - no loss.
+10 TRUE hp at 3000 rpm
+15 TRUE hp at 4000 rpm
+16 TRUE hp at 5000 rpm
+15 TRUE hp at 6000 rpm

+16 ftlb torque increase at 3000 rpm
+19 ftlb torque increase at 3500 rpm

Note!
All Factory Pro HP is True HP scale as measured on a research quality EC997 Dyne System. It is not inflated as the dynojet and their clones HP numbers are. For a dj number, add 10% to 15% to True hp.

200x FLHX Mike A.

Base 88ci with SE air cleaner and slipon exhaust:
69 TRUE HP at 6000
74 ftlbs at 4000

Final 95ci SE heads, cams, SE ac, slipon exh with fuel and ignition timing with Directlink
83 TRUE HP at 5500
93 ftlbs at 3500

Tuned April 08, 2006 at Factory Pro Tuning Center in San Rafael, CA using Directlink. 6 hours tuning.

Comment:
Excellent engine package.
OK - I got tired of looking up cam specs, so here's some pages from some cam manufacturers
TWIN CAMS
Leineweber Cams
Ahhh! :-)
How logical! Just a few cams to choose from and good descriptions
PART#
Solid
or
Hyd
lifters

VALVE LIFT

OPEN/
CLOSE
DURATION
AT .053"
LOBE
CTR
description
SPRINGS
T3S*
H or S
IN
.510
17/41
238
102
Broad power band, no head work required

added notes from Marc:
Should work well with most 88ci to 98ci revving to 5500 on larger disp. engines - and 6000 rpm on stock displacement engines - VERY good lowend when properly tuned to Best Power (not tuned to AFR!!), with Race Tuner))

stock valve springs OK
EX
.510
51/11
242
110
T5S
H or S
IN
.560
24/40
244
98
The ultimate twin cam, plenty of bottom and mid-range power. Minor head work required.


added notes from Marc:
Similar to Andrews 55g and should work well with most 95ci to 103ci revving to 5500 - 6000 rpm - good lowend when properly tuned to Best Power (not to afr), with Race Tuner. My preferred cam profile for most 88-105 bikes.

high lift valve springs required

2EA (aluminum tops)
or
2ET (titanium tops)
EX
.560
56/12
248
112
T7S
H or S
IN
.603
23/51
254
104
Designed for gas bikes 95 cubic inch or larger. Has a broad power band and a wide torque range.
similar Andrews 67g with a bit more needed lift.

added notes from Marc:
If you've tried the T5S and power drops off above 5500 rpm a lot more than you want, try this cam. On a smaller engine, it's kinda wheezy below 3500 rpm. I tend to stick with T5S generally.

high lift valve springs required

2EA (aluminum tops)
or
2ET (titanium tops)
EX
.603
59/19
258
110
T9
H or S
INI
.660
52/82
314
104
BIG ENGINE ONLY.
High Performance Race Cam, designed with the 124 cubic inch class in mind; Excellent Torque requires Head Work with Heavy Springs. Available in Gear Drive only.
high lift valve springs required

2etr

EX
.640
83/39
302
110

ROCKER RATIO 1.62 to 1
H-S INDICATES STOCK HYDRAULIC OR SOLID LIFTERS
JIMS or VELVA TOUCH Hydraulic Lifter Kit can be used with any cam in this table.

Phone. 760-364-4432
Fax. 760-364-3402
Email. info@leinewebercams.com
P.O. Box 335
Yucca Valley, CA 92286
Andrews Cams: click here for latest information
Do NOT use this chart as the last word in Andrew's cam specs - Always visit their website to get their latest information.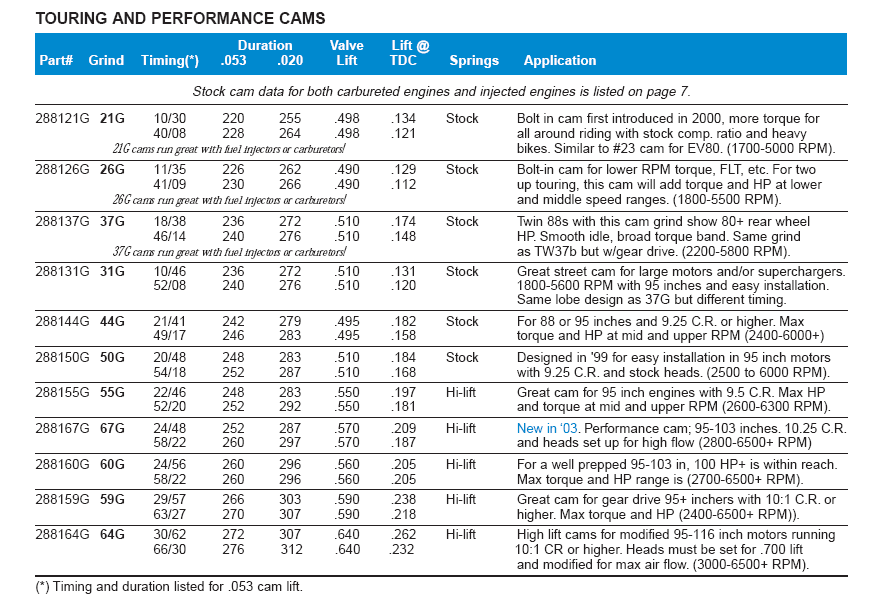 How quick can a Steady State test actually be? 2 minutes..........
110ci HD, Thunderheaders, 1.5K to 6K. Realtime HP for the cleanest emissions and the smoothest running engines.

Big Boyz' HD Cam Specs and other HD related online calculators - click here
Big Boyz uses the Factory Pro EC997 dynamometer for highest quality tuning results!
New and improved Suzuki Teka SFI 2

with new TPS display and "MMT" Memory Module Tuner

Finally - Quick, easy, cost effective Suzuki tuning with no expensive "add-on boxes"
Suzuki cruisers and sportbikes

Contact Factory Pro
M-F, 9am - 5pm, Pacific time, -7 or -8 GMT

800 869-0497
USA and Canada

415 491-5920

fax 415 492-8803

parts information
info@factorypro.com

EC997 dynamometer information
info@factorypro.com

Product Support /Tech SECTION
click here

Mailing / Shipping address:



Factory Pro
179 Paul Drive
San Rafael, CA 94903
USA

And most importantly
Restart back at the HOME page and click on the red box in the top left to find the bike that you want parts for...
restart at HOME page

This Tuning Site has been visited by

people.
www.gigits.com - the oldest counting service on the web

LINKS
EFI and Carb Tuning - Most all FI and carb tuning

by Wheelsmith Racing

The Harringtons own

American Flyers

, one of the most established flight training facilities in the USA.

8 locations

800-362-0808

Flight Training - train with AMA race winner Todd Harrington.
Insurance ONLINE QUOTE
Clearinghouse

Get ONLINE realtime quotes from multiple companies - One Stop MC, auto, home and more from insurance companies you know and trust.

The Rich Oliver Mystery School will help you discover your hidden inner strength.
It will challenge you. It will teach you a new way of thinking, and a new way of riding. You can take your riding to an exciting new level!

We use a variety of proven drills and training techniques.
Practicing these techniques with our Yamaha dirt track trainers will enhance your abilities both on the track or the street.

It doesn't matter what you ride or race, the Rich Oliver Mystery School improves everyone's skill level and mindset!
Make your next tour Unforgettable, Affordable and Exotic.
Superbike Tours Thailand - See you there.

Geoff@superbiketoursthailand.com

2013 Flying Special!

Book a sightseeing flight over the Wine Country or a Kamikaze aerobatic flight or a biplane flight over Infineon Raceway, the Golden Gate Bridge and the San Francisco Bay for one or two during the spring and get a free souvenir t shirt!
(NEW! Ask about the P-40 flights!)

707 938 2444

Just say that you saw this on the Factory Pro website!
Marc
Northern California's most unforgettable flying experience. No experience required. Open weekends!

Artisan Crafted Fine Cheeses – Since 1865

Specializing in Handmade Brie & Camembert

Marin French Cheese Co., also known as The Cheese Factory and Rouge et Noir is not just the oldest cheese manufacturer in the country, but a vacationers and day trippers destination as well as a unique part of American History. Located north of San Francisco, east of Napa County, west of Pt. Reyes and Olema and south of Sonoma County, Marin French has produced hand crafted Artisan soft ripened cheese since 1865. Rouge et Noir cheeses are similar to French and European varieties but reflect the characteristics of Northern California, producing it's own regional style.
The extension of the laboratory for engines of the Swiss Federal Institute of Technology was completed in about 1935. Its architect was Rudolf Otto Salvisberg (1882-1940). He had a successful career in Berlin but returned to Switzerland after the advent of the Nazis. His architectural style was somewhat similar to that of Erich Mendelsohn. The staircase of the laboratory is in normal use but well preserved.
Edited to the tunes of Chemical Residue by Herbie Hancock.

Maybe in next rewrite, he'll fix the ignition timing and dyno chapters...
Otherwise great book with great starting ideas.

My bible


The little blue bible for quick references and little known facts.