"1.7-RK RaceKit" - Carburetor Recalibration Kits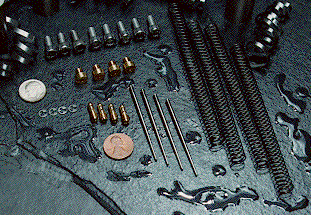 Would you be willing to spend an extra hour to install a carb kit to get absolutely the MOST peak power AND most low and midrange attainable on your bike?
Specific Features - 1.7 RK RaceKit Carb Recalibration Kits

New CelMat30 for longest life - not affected by unleaded fuels!
Slide drilling may or may not be required. Drilling and tapping of the carb body WILL be required.
Absolutely the cleanest, strongest power on top, through the middle and at part throttle
Race proven since 1990!
Limited Application List!
CARB BODY MACHINING!!!
Easy To Tune - the most precise fuel delivery curve design of any carb kit!
General Features

Factory Designed - US made!
New CelMat30 or Titanium Needle material - Special alloys for smoother, brighter needles - Much stronger, therefore, superior to plain stainless steel, aluminum or gray coated aluminum!
Genuine Mikuni, Keihin, or our own Factory 393 Series K jets. Alternate jet sizes included!
Slide springs and pilot jets are supplied, as required in kit design.
Stainless Steel or Irridited Allen Screws - replace original philips screws in float bowl or carb top as specified.
Straightforward instructions.
Sturdy, reusable high impact plastic case.
Simply the Best TOLL FREE Tech Support in the industry. 1-800-869-0497

Ask Muzzy's, Kinko's Racing, Cycle Motion, Four and Six Racing and the rest of the top AMA tuners

The overwhelming choice of AMA Pro Roadracers
What is a Factory "1.7-RK" RaceKit?
Factory RaceKits are carb kits that require modifications to the carb body. That may include drilling, tapping, reaming or other mods. These operations should NOT be done by one who is not comfortable with modifying expensive carb bodies!
Why the complexity?
While Config. 10 and 30 Factory Carb Recalibration Kits are designed to be true Drop-in kits, the RaceKit Series is designed to modify the fuel delivery curve in exactly the proper proportions - without the Drop-in limitation.
The most low-end, midrange and topend??
Yes. The carb now has the ability to be tuned to delivery exactly the proper amount of fuel at cruise and at every rpm and throttle opening - the benefit being more power - everywhere! The kit works on and off the track and is actually easier to dial in.
Factory Designed, US made, special CelMat30 alloy needles, Genuine Mikuni, Keihin jets, or our Factory "K Series" Replica jets. As required, slide springs, pilot jets, drills, taps and reamers are supplied. Replacement allen carb screws, simple instructions and the best TOLL FREE Tech support in the industry. 1-800-869-0497
Carburetion Developed on
True Rear Wheel Horsepower© EC997a Eddy Current Rear Wheel dynamometer

Maybe in next rewrite, he'll fix the ignition timing and dyno chapters...
Otherwise great book with great starting ideas.

My bible


The little blue bible for quick references and little known facts.
Absolutely NO carb parts sold in California.


New and improved Suzuki Teka SFI 2

with new TPS display and "MMT" Memory Module Tuner

Finally - Quick, easy, cost effective Suzuki tuning with no expensive "add-on boxes"
Suzuki cruisers and sportbikes

Contact Factory Pro
M-F, 9am - 5pm, Pacific time, -7 or -8 GMT

800 869-0497
USA and Canada

415 491-5920

parts information
info@factorypro.com

EC997 dynamometer information
info@factorypro.com

Product Support /Tech SECTION
click here

Mailing / Shipping address:



Factory Pro
179 Paul Drive
San Rafael, CA 94903
USA

And most importantly
Restart back at the HOME page and click on the red box in the top left to find the bike that you want parts for...
restart at HOME page

This Tuning Site has been visited by

people.
www.digits.net - the oldest counting service on the web

LINKS
EFI and Carb Tuning - Most all FI and carb tuning

by Wheelsmith Racing

Flight Training - train with AMA race winner Todd Harrington.



The Harringtons own

American Flyers

, one of the most established flight training facilities in the USA.

8 locations

800-362-0808
The Rich Oliver Mystery School will help you discover your hidden inner strength.
It will challenge you. It will teach you a new way of thinking, and a new way of riding. You can take your riding to an exciting new level!

We use a variety of proven drills and training techniques.
Practicing these techniques with our Yamaha dirt track trainers will enhance your abilities both on the track or the street.

It doesn't matter what you ride or race, the Rich Oliver Mystery School improves everyone's skill level and mindset!

WW2 vintage flying Special

Book a sightseeing flight over the Wine Country or a Kamikaze aerobatic flight or a biplane flight over famous Sonoma Raceway, the Golden Gate Bridge and the San Francisco Bay for one or two during the spring and get a free souvenir t shirt!
(NEW! Ask about the P-40 flights!)

707 938 2444

Just tell them that you saw this on the Factory Pro website!
Marc
Northern California's most unforgettable flying experience. No experience required. Open weekends!

The extension of the laboratory for engines of the Swiss Federal Institute of Technology was completed in about 1935. Its architect was Rudolf Otto Salvisberg (1882-1940). He had a successful career in Berlin but returned to Switzerland after the advent of the Nazis. His architectural style was somewhat similar to that of Erich Mendelsohn. The staircase of the laboratory is in normal use but well preserved.
Edited to the tunes of Chemical Residue by Herbie Hancock.