Install your TDC Dial Indicator with special holder installed into spark plug hole.
This shows a 2" travel Dial Indicator installed in the #4 cylinder.
Note: Degree wheels slip on their adapters and pointers get bent!
A dial indicator is a much more versatile device for measuring and rechecking your degree wheel settings. You will leave the indicator installed during the complete cam timing procedure.
Every time that you turn the engine over, you have the ability to recheck you TDC setting.
You can use a dial indicator on an engine that has a vertical spark plug hole. For other types of engines with angled spark plug holes, you will need to use a "positive stop" procedure instead of a dial indicator. Most Japanese 4 or 5 valve sportbikes have vertical spark plug holes.
Most 2 valve engines have angled spark plug holes.
If there is any doubt, use a "positive stop" to set TDC. You won't be able to recheck your TDC settings easily or as often.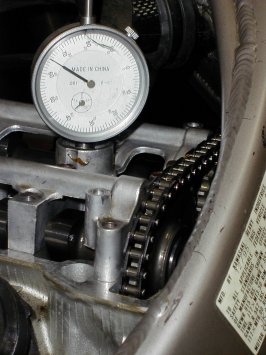 Install your 1" travel Valve Travel Dial Indicator with special tip installed.
This shows the 1" Dial Indicator installed on the #1 cylinder's intake.
If you use cylinder #1 or #4 for TDC, you can use either cylinder #1 or #4 for Valve Lift.
If you used cylinder #2 or #3 for TDC, you can use either cylinder #2 or #3 for Valve Lift.
Special tips? They are flexible and point around corners.
To make:
Gas weld / tack a 2.5" length of 1/16th welding rod onto the tip of a spare screw-on tip for your dial indicator. If you purchase a "Dial Indicator Tip Kit" for ~$20, you will usually find several tips that you'll bet you will never use.
Screw the modified adapter tip into the dial indicator shaft and mock assemble the indicator so you can see the dial indicator face and then to figure out how you need to bend or shorten the extension. When bending the extension, be sure to use 2 pairs of pliers on the extension only, so as to not damage the original indicator shaft.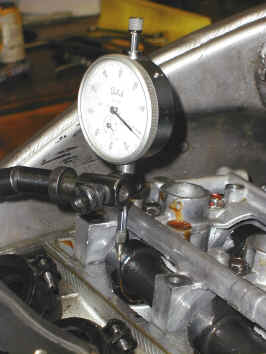 Measure and calculate Intake Cam Lobe Center setting.
Generally, when referencing and optimizing the same set of cams, you will use the Lobe Center method for measuring cam location as referenced to crankshaft location.
Rotate the crankshaft in normal engine direction.
When the intake valve lift reaches exactly .040" valve lift movement, record the crankshaft degree wheel reading. It must be before TDC, between +1 and up to ~30 degrees Before TDC (or the math becomes difficult).
If the measured intake opening at .040" is after TDC, restart measurement and use .030" or .020" lift. Make sure that you use your selected lift for all measurements on this project.
Differences in L.C. numbers are (generally) minimal at .010" to .050" lift on shim and bucket motors but it's best to not gamble with accuracy.
After you do intake opening, next record intake closing (at the same lift number). That's where you find out what the little "overall travel" dial on the dial indicator is good for. Check and make a note at where the "little dial" is when the intake valve is fully closed. You may just decide to reset the indicator so that the overall travel is at 0 with the valve fully closed and start over on the intake opening again!
Record:
Intake Opening
Intake Closing

Calculate as at left
Intake open degrees, plus
Intake close degrees, plus
180 (180 is a constant), equals
Total Duration
Take Total Duration, divide it by 2 (2 is a constant)

Take Total Duration/2 and subtract Intake Opening number (which will be the smaller of the 2 intake lift numbers that you've recorded - unless the cams are WAY far off!)
When done, recheck your TDC / degree wheel setting. If wrong, reset and redo your Lobe Center measurements. (If you are using the TDC Indicator, you would have checked your TDC / degree wheel settings throughout your previous set of valve lift measurements)
You have your Intake Lobe Center
Lobe Center (AKA L.C.), Method works well when you are comparing the same cam set only. If you were using a different cam duration or lift, the optimum L.C. for one type of cam will NOT be the same as the different cam.
.040" lift, Intake open (IO)=
.040" lift, Intake close (IC)=
Divide Total Duration
by 2
Subtract IO from
Total Duration
+__________
+__________
+180
=Total Duration @ .040" (or .030" or .020")
Total Duration/2
=__________
(Total Duration/2) -
IO = Lobe Center
=__________ L.C. Intake
For Exhaust Cam:
Repeat.
The only difference is that you will subtract the Exhaust Valve Closing Lift measurement instead of the Opening (as you did on the intake cam) measurement. The number that you use will, like the Intake Cam measurement, will be the "smaller" of the 2 measured opening numbers.
You could say:
Valve Open + Valve Close + 180, divided by 2 and subtract the "little" number for the Lobe Center.
Also, the exhaust cam is typically more difficult to setup the Valve Lift Indicator on when setting and testing in the frame. You may have to rebend the extended indicator tip.
Now!

Example:

The intake valve Intake Opens at 25 degrees Before Top Dead Center (BTDC) - then the piston travels 180 degrees to Bottom Dead Center (BDC), then the piston travels UP, on the compression stroke and at 55 degrees after BDC.

Add up all those numbers. 25 + 180 + 55. Write it down!
That's 260.

Any time you are using this cam and the same "opening lift", you'll always get the same total duration number - in this case, 260. Always check that you get the same total number - or you have made a mistake in reading the degree wheel (very common, at first!)

Now - divide that 260 by 2. That's 130.

Now, finally, subtract the "smaller number", in this case, 25.

You'll get 105 for a lobe center number.

.