EC997 Dyno Test Procedures
How easy is it to do a diagnostic Step Test?
Contrary to the claims of some other dyno companies that EC997 Dyne Software is "too complicated" and "difficult to use" - (they have far surpassed any perceived complexity - with much less capability with their current eddy current brake equipped models) - what with their inability to realtime measure power and Engine Smoothness at different rpm's and throttle positions - they now have a plethora of unimportant numbers cluttering up the screen - just because the have numbers to display!
And they STILL don't supply realtime horsepower readings..........
The EC997 is the ONLY dynamometer sold today that can do fully regimented Step AND Sweep tests for both power AND fuel AND ignition setting with a fully integrated 4 gas EGA. SIMPLY.
Unlike other dyne systems sold today - the EC Dyne Series have easy, direct, "all in one place" software.

How easy?
Watch!
OK - So we decide GP Tech's "Fat Sally".
Pick the Make: Yamaha (from the "dropdown list box").
Then, the Model: TZ250,00-02.
Then Bike: GPTech Fat sally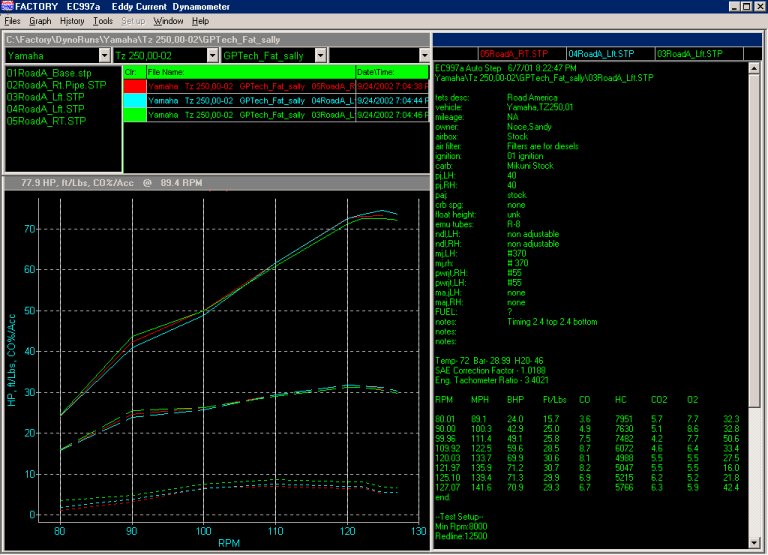 Then, we RH mouse click for a drop down menu and click on "Go to Test"
Next look at the below "Test Setup Screen".
Select test Type (Step Test, in this case)
Check the Start RPM, the End RPM and the Increment desired (sportbike, usually 1000 rpm, low rpm engines, usually 500 rpm - just click and choose either).
Actually, all this setup info will have preloaded from the previous test on the above Graph Screen - so, you only have to click "Test" unless you've decided to change something, like the Test Type.
The "Recording Parameters", "Script Files" and "Special Applications" tabs are "icing on the cake" for advanced flexibility, data export and special asymmetrical rpm steps in a test.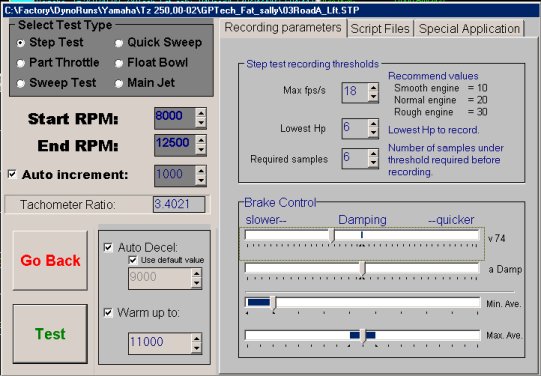 So - now you are here!
Look at the green, horizontal bar - it says: "This Target is 8000 rpm, apply throttle".
Oh boy - this is too easy!
See the "8000" highlighted in blue, at the upper, right hand side?
After you open the throttle, the computer will hold the engine rpm to 8000 rpm.
When the Status Bar turns red and displays "Recording", let off the throttle and the Status Bar will display "Target 9000 rpm". Gee - this is really hard!! :-)
The upper RH display will increment to 9000 rpm (remember the Test Setup where you have 1000 Auto Increment!)
This screen shot shows a completed set of steps, 8000 to 12500 rpm.
What you are looking at in the yellow recorded, realtime data is an average over 1-3 seconds.
While you are testing, the engine torque and HP (green letters), are constantly displayed - ALWAYS realtime!!
So.... You can do REALTIME cruise tuning with the Teka Suzuki SFI Fuel Injection tuning tool (remaps the stock Suzuki ECU! - (No add-on "box" - no lost maps - no ignition scatter - no empty promises of downloading perfect maps off the internet!) or the new REALTIME Teka EMS Fuel Injection System - with 1/10 degree accuracy and +/- 100 range!
Can't do that with anything else - only from Factory Pro - The REALTIME people!

So - you are done testing -
Click on Save Test
Up pops Atmospheric Conditions box -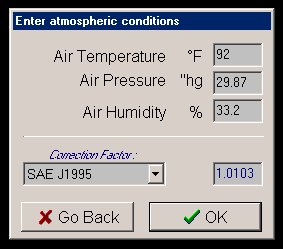 Click "OK"
Now...
Select the directory that you want to save the test in - (It'll be set at the same directory as you were in on the first screen we looked at - the "Graph Screen")
It's already set at Yamaha, Tz 250.00-02, and GPTech_Fat_Sally.
Then.....
Change the Notes (on the left side)
Then....
Modify the filename to something meaningful
(who wants to scroll through a bunch of file note to fine something that could be described in the sequential filename!!)
Then...
Click on the green:
"Save, then Test" to jump right back to do another test w/o changing the vehicle or
Save then Graph - which will....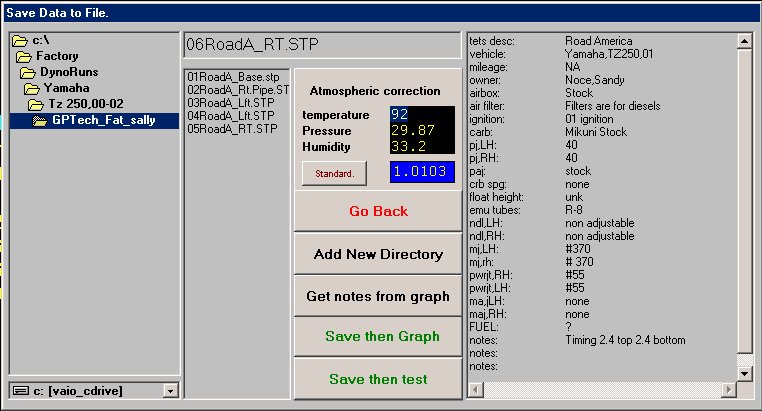 Drops you right back where you started - With you new test to click on and view -
(which would actually be 06RoadA_RT.STP if I would have taken that screen shot!)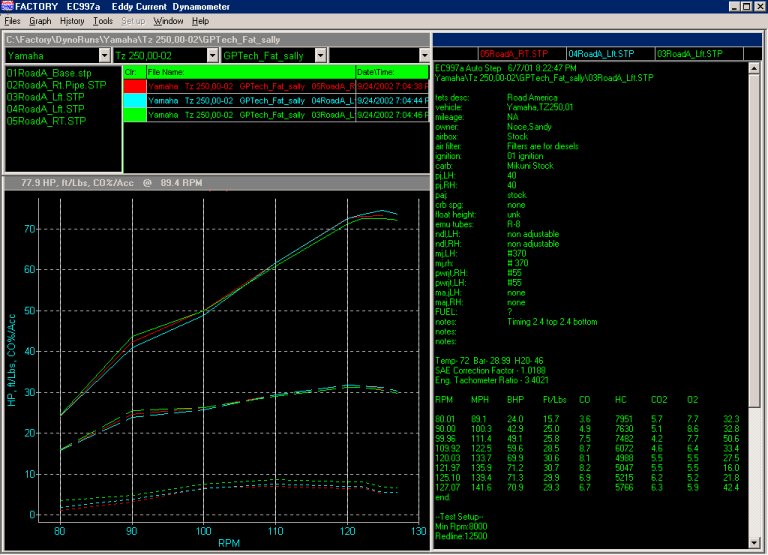 So - what next?
Make some engine or tuning changes or do a RH mouse click, Go to Test, select a different type of test in the "way above" Test Setup Screen and do a different test!
Oh man! This is too easy!
All that too complicated? Get your hands on it - it's not even close to hard - even if you've never run a dyno, only run a dj inertia dyno and much easier and flexible (remember the Special Applications!) with more correct tuning information than a dj250.
With the super easy on the engine, Low Inertia EC997 Dyne System, you can even do ignition timing to 1 degree resolution! Just not possible on dj250's! (I guess that the most common comparison - if you've noticed I mentioned it!)
And yes, if you are worried that people won't like the lower, True HP Scale, it is possible to inflate HP numbers to equal dj numbers - even more repeatability, dyno to dyno than they can!
Most dyno owners that were concerned about that issue have decided to just use the True HP Scale - the results speak for themselves - it's enough to be able to say that a super-good Suzuki GSXR750 AMA Supersport bike makes 120 True HP. That's way better than dj generated numbers that have 132 djhp bikes racing 141 djhp bikes at Daytona!! (no - you CAN'T "spot" the other guys a real 8-9 "hp" at Daytona and still lead the race!!) And no - it's just not realistic to say "as long as you use the same dyno to get the numbers it's all the same"... it's not!
- The truth is out there -
True HP is REAL HP
EC997's are EASY to use.
Low Inertia C997 Dyno locations: USA, Canada and Europe
True Rear Wheel HP measurement on the EC997!
Absolutely NO carb parts sold in California.


New and improved Suzuki Teka SFI 2

with new TPS display and "MMT" Memory Module Tuner

Finally - Quick, easy, cost effective Suzuki tuning with no expensive "add-on boxes"
Suzuki cruisers and sportbikes

Contact Factory Pro
M-F, 9am - 5pm, Pacific time, -7 or -8 GMT

800 869-0497
USA and Canada

415 883-5620

parts information
info@factorypro.com

EC997 dynamometer information
info@factorypro.com

Product Support /Tech SECTION
click here

Mailing / Shipping address:



Factory Pro
101c Roblar Drive
Novato, CA
USA

And most importantly
Restart back at the HOME page and click on the red box in the top left to find the bike that you want parts for...
restart at HOME page

This Tuning Site has been visited by

people.
www.digits.net - the oldest counting service on the web

LINKS
EFI and Carb Tuning - Most all FI and carb tuning

by Wheelsmith Racing

Flight Training - train with AMA race winner Todd Harrington.



The Harringtons own

American Flyers

, one of the most established flight training facilities in the USA.

8 locations

800-362-0808
The Rich Oliver Mystery School will help you discover your hidden inner strength.
It will challenge you. It will teach you a new way of thinking, and a new way of riding. You can take your riding to an exciting new level!

We use a variety of proven drills and training techniques.
Practicing these techniques with our Yamaha dirt track trainers will enhance your abilities both on the track or the street.

It doesn't matter what you ride or race, the Rich Oliver Mystery School improves everyone's skill level and mindset!

WW2 vintage flying Special

Book a sightseeing flight over the Wine Country or a Kamikaze aerobatic flight or a biplane flight over famous Sonoma Raceway, the Golden Gate Bridge and the San Francisco Bay for one or two during the spring and get a free souvenir t shirt!
(NEW! Ask about the P-40 flights!)

707 938 2444

Just tell them that you saw this on the Factory Pro website!
Marc
Northern California's most unforgettable flying experience. No experience required. Open weekends!

The extension of the laboratory for engines of the Swiss Federal Institute of Technology was completed in about 1935. Its architect was Rudolf Otto Salvisberg (1882-1940). He had a successful career in Berlin but returned to Switzerland after the advent of the Nazis. His architectural style was somewhat similar to that of Erich Mendelsohn. The staircase of the laboratory is in normal use but well preserved.
Edited to the tunes of Chemical Residue by Herbie Hancock.