Suzuki GSX1300R Hayabusa

and even quicker with the new Factory Pro S89 V Stacks and smoother and quicker shifting with the new Factory Pro Shift STAR!
Superflare Billet Velocity Stacks


VEL-S89-7070 $279.95
up to +4 to +8 midrange hp.
(if properly tested and tuned)
Easy install
You wanted a big boost in Busa power without the downtime, expense and potential unreliability of big bore kits and heavy valve springs?

Hayabusa Superflare V Stacks

Marc Salvisberg of Factory Pro designed and tested. Patented clipless design.

Stock engine Busa with a race exhaust system
HEALTHY +4 to +8 True HP gain at 9000 rpm when measured under a real load on a stock engine. We did not change fuel injection tuning.

09 21 06:
Have a 1397cc modified engine?
A 1397cc engine showed 3-4 True HP improvement in the upper midrange and 1-2 at full throttle at the lower rpms over both the 48mm stock and the 50mm "other brand stack".
....................

Note: All testing done under fully loaded dyno conditions on EC997 Dyne systems to get proper HP production. Testing done on dealership level dynos "inertia" loading may appear to be lesser or greater amounts of power.
What works best under "inertia" dyno load is rarely what works best in the real world - That's why we never use common dealership level dynos for testing or feedback.

Drop-in them in an hour. Ride the bike.


VEL-S89-7070-NITROUS Stacks

$329.95

Tired of looking at kludged injector mounts?


These are beautiful! And SOLID and RELIABLE! Patented design.

1/8" Nitrous tapped billet V Stacks
Increases low, mid and upper midrange with and without NOS

Provides a solid, tapped NOS mounting hole
instead of only 2-3 threads or worse, yet, shoving an injector through a flimsy stock rubber velocity stack.

Ok.... Techy Stuff
The stock Suzuki and the "short" Suzuki gsxr750 48mm ID stacks are poorly shaped and the "other" aftermarket 50mm ID stacks are simply not what an engine wants. Even if 50mm was better than 48 (and it's not...) why wouldn't we make 52mm and they'd be even better (52's are even worse than 50's on a engine, btw!)

What Factory Pro made was what the engine's intake tract actually wanted with stock diameter throttle bodies.
So, in jest, STOP calling up and asking "How big are they?" as if you knew that bigger is better..... In an engine, proper matching of engine requirements is the key to making Best Power and if they wanted to be a bigger Inner Diameter, we would have made bigger.... It's only a slight change in CNC programming....
Ok - If you REALLY want, I'll make some 52's special for you and they will work even worse than the "other" 50mm aftermarket stacks.....

To prove that "bigger isn't automatically better...... Our TopKick, dropin cams and or Superflare Stacks made the same or better peak power than that properly remapped 1397cc, milled, ported, valve springed, cammed engine......

SHOULD a stock bore, unported engine make better power than a big bore, ported engine?
Not if the big bore engine was properly designed. It looks like the 1397cc engine is missing potential 10 to 15 hp.

Bigger isn't Better when it doesn't fit the application.........


Our own testing:


Hayabusa wit h Yoshimura exhaust system and stock velocity stacks
139.9 True HP
(estimated 161 dynojet hp)
added Factory Pro Superflare Stacks added +4 True HP
143.9 True HP
(estimated 165 dynojet hp)




2007 February 2

and....

even though the dj dyno's aren't very reliable for HIGH hp levels, esp. at high rpm on large, bikes, here's one that worked well - So - even though.... I'll take it.
BLUE is the FP stacks

This looks like Yosh Stage 1 cams, Ti Force exhaust, and some airbox mod


BLUE line
+4 True hp on top and +4 to +8 in midrange


RED line
is without the Factory Pro stacks.

Less than an hour - under $250.

NOTE:
That 10k REAL rpm on this dyno chart is about REDLINE, 10,500ish rpm on a normal, optimistic stock tachometer,

10.5k real rpm (as shown on this dynojet graph) is actually banging off the rev limiter.= and that's not how most people ride - even pro drag racers......

The average HP, across the top, is much better with the stacks.

Shift STAR kit for smoother and quicker shifting with fewer missed shifts




(sample Star kit pic)

25350-24F00 oe spring
25381-13E10 oe arm

---


(sample Star kit pic)


October 10, 2006

To: Marc Salvisberg
Subject: Re: Hayabusa - Star shift kit to NZ

Nice talking to you and all that a couple of weeks ago.
I have done a few hundred km's with this now and I have to say it is a rather pleasant improvement.
I have always thought that the shift on a Busa is a pretty good thing when compared to earlier big bikes like the ZZR1100 and even earlier still the VF1000 but it is still a much meatier affair when compared to modern bikes of smaller capacity.
This changes that somewhat. Not quite as sweet as say a CBR600 but along those lines.
I like the way that you can do lazy up changes around town without the clutch and it slips through as smooth as silk.
Also it is not that difficult to install either as long as you have the gear to get the front sprocket nut undone (a rattle gun is handy) and you are prepared to bend up a ring spanner so as to get that one gearshift housing cover bolt that is a bit hard to get at.

Regards
Rob Hookway - NZ

Factory Pro's awesome new
Shift STAR kit for the Busa

Banish the "Busa Boot" shift forever.

Decrease Quick shifter "shift kill duration" for drag racing - better ET.

Includes Factory Pro's AWESOME Marc Salvisberg designed Detent Star - Totally changes the rough shifting the Busa's are well known for into the sweetest, smoothest shifting bike in town AND the quickest non-airshifting bike at the strip - you'll think you bought a different bike.

Better / quicker 1-2 shifts.
Virtually eliminate missed shifts - up and down.
Easier to find neutral.
Quicker 3rd through top gear shifts.

Perfect for drag racing and street!
You MUST decrease your QS "shift kill" 5-10ms for better ET's

Works with or without undercut transmission. Works with and without an air shifter. It makes a "foot" shift an extremely quick event - Almost eliminate a missed 2nd gear shift (though if you try, you can still miss it...)

In fact, I'd try the Factory Pro Shift STAR Kit before I pulled the engine down to "fix" the gear dogs - as long as the gears aren't damaged so much that the gears engage and then pop out at high rpm - that's symptom of rounded gear dogs.

Includes:
Factory Pro designed, refined, CNC machined, heat treated DETENT STAR, Factory Pro Microbearing Detent Arm (on the 99's only), Factory Pro's own heavy duty detent spring and a new gasket. Makes shifting quicker and more positive - "virtually" eliminating missed shifts. The stronger detent spring rotates the shift drum quicker and the gears are more likely to engage under quick shift conditions - and "lazy" shifts work well, too -
The Factory Pro Microbearing removes shift drum friction for the quickest shifting.
The closest to a "paddle shifter" for a motorcycle that you will ever find!!

................................

Hayabusa Shift STAR Install notes:

Installation requires countershaft sprocket removal. Impact wrench recommended
8mm box wrench and socket set Most newer 12 point 8mm wrenches are thin enough to work in these close quarters.
Does not require case splitting.
Estimated shop time: 1.0 to 2.5 hours
Suggest to do when replacing chain and sprockets.

Remove the countershaft sprocket.
Loosen every bolt on the shifter cover.
Remove every bolt that you can get to.
There will be one or two bolts that the frame will be in the way.
Don't have to grind the frame......
Reach back, behind the cover and there will be one or twp small alignment dowels that are still stuck in the engine case. The height of the dowels is why you can't remove the cover (with the screw still installed)
Use needle nose pliers or "your choice of tools" to lift them out towards you.
Then, screws will have enough clearance to slide sideways, with the cover - and you can get to the STAR and Detent Arm.

It's possible that some individual frames may be bent and welded very slightly differently, but we haven't seen one, yet.

INSTALLATION SHEET, pics and more detail

Teka SFI - THE solution for quick fuel injection changes




Teka SFI Fuel injection tool
$695

OUT of stock

call
800 869-0497

works on Boulevards, DL's, SV's, TL's, gsxr's, Busa's till at least 09!

Hook it up - richen or lean it -
unhook and ride.

30 seconds.



Teka SFI Suzuki Fuel Injection Adjusting Tool

Taking the tuning industry by storm.

Easy to tune the multiple bikes with the same, single unit - Improves low rpm over pc's and stock!
Wider range with fine increments - perfect for late model FI Suzuki motorcycles. Most reliable of all FI fueling tuning tools. It's a tool to remap the stock box - not a "stay on" electronic box.

The Teka SFI allows the user to dial in Suzuki fuel injection systems. Adjusts low speed / idle (unlike other units and also adjusts different ranges of throttle opening, up to and including full throttle - and does it ON THE FLY - at home, the shop or the strip.
IDLE CIRCUIT: Make changes as bike is running, real time, unlike other FI adjuster boxes - absolutely saving time when adjusting the low speed mixture. Select a cylinder and make it richer or leaner - as the bike is idling. Just like adjusting fuel screws - except you don't get your hands dirty! Makes idle adjustment a 3 minute joy instead of a 15 minute, vague, aggravation!
RUN CIRCUIT RANGE: Make changes as bike is running - on road or dyno. Teka SFI extends the range, as compared to Yosh/Denso box.
RUN CIRCUIT INCREMENTS:
Teka provides smaller throttle position increments, too.
0% to 10%
25%
50%
75%
100%
Addresses Hayabusa off-idle glitches, where you need to richen up the "very small throttle opening" or just above that to address "hiccups".
Check the fueling on your local Low Inertia 4-Gas EC997 eddy-current dyno, adjust the stock ECU for maximum power, set it and take your Teka Fuel Injection Programmer away with you. That's good for 1-2 True HP over pc on a Hayabusa installation when tested under load on real dyno.

Works on all street FI Suzuki's till at least 2006.

Tiny!
Teka MMT Module
EZ tune MMT (adj. memory module) Power Tube

MMT Power Tuner

After tuning with a Teka SFI 2,
you can use this optional module to fine fine adjust fueling with a screwdriver adjustable rotary switch.

MMT plugs right in to the bikes tuning port (same as the SFI).

If tuning with the SFI 2 / MMT combination:
The MMT is plugged into the bike, the SFI 2 is plugged into the MMT and all tuning settings from the SFI 2 are stored in the MMT and automatically transferred to the bike.
After SFI tuning, the SFI is removed and the MMT is left on the bike.
Then, for any fine tuning or adjusting after you maybe change air filters or similar or high altitude or a lot of freeway riding, you can just tweak the MMT Power Select Switch to a different number.
"5" = "as tuned with the SFI 2
"6" to "9" = incrementally richer
"4" to "1" = incrementally richer
"0" = "All zero ECU settings

If tuning with the MMT only (without custom SFI tuning):
If just installing an MMT without SFI custom retuning, just installing the MMT will allow you to adjust, globally, incrementally richer or leaner with the Power Select rotary switch.

If you first install an MMT and decide the have it custom tuned with the SFI 2, no problem.
Just plug the SFI 2 into the MMT's Tuning port and tune that perfect map.

Then, you still have the ability to "trim" map for conditions with the Power Select Switch - and you even have, by setting it at "0", to recheck how the "zero" map was in comparison to your "SFI Tuned Map".

EZ install - all stock connectors, no splicing.


Ignition Advance Kit - Boost low and midrange power - Better launches



Ignition Advance Kit
RTR-SUZ-36-04 $79.95

The Factory Pro S36 Ignition Advance Kit advances the timing 5 degrees!
(Power Commander Ignition Module notes: "says 10", but, "10 dynojet degrees" is only about 2 real degrees, as of Jan 08)

Improves power and "snap", lowend and midrange and even a True horsepower or so at full throttle in a stock engine (meaning an engine with stock compression)

With stock engines with stock compression ratios, there is more power everywhere. Part throttle power is better - helping corner exit speeds. Improved in-town drivability.

It's 100% reliable, unlike electronic ignition boxes....

This kit also fits the SV650 - and requires a 1/2" impact wrench to remove the flywheel with the supplied rotor puller.

Here's dyno chart showing adding an
RTR-SUZ-36-04 to a properly tuned Hayabusa.

This bike already had a pipe, Factory Pro Superflare Stacks, a K&N air filter and no additional FI tuning was done

Husam Sidani


Customer's bikes from around the world



marc@factorypro.com

to submit pictures

Feb 2013

Jamie McLean

ECTA Land Speed record holder

Photo by David Wheeler


DW Photo website

2012 September


Husam Sidani

99 Hayabusa

Beirut, Lebanon
2007 October

Marc,

I think your Superflare V-Stacks have added to the real power of the Busa Motor.

It pulls so hard, that it will walk away from any stock motored Busa.

It has crazy power off the line and top end is stupid fast. I am getting 178 HP to the crank with 101 FPT.

My Bike is a monster, and I love it.

Thanks for producing such a fine quality product.

Regards,
Thomas H Gray Jr
Hewlett-Packard

2007 October 21

hey marc ,

just dropping you a line to let you know

i fitted your Superflare velocity stacks, we put the Busa on the dyno, initially it showed a drop of about 2 horsepower ,ray ran it up on the dyno and played with the power commander, we got an extra 2.6 horsepower better than before we fitted the stacks, more important than that was the torque was widened and increased the bike's grunt. best, [cheapest] per hp money i ever spent. it s really pleasing to buy something that actually does what it says.

i will be telling my friends,

cheers, derek nagy :-)


Tuned by:
The Ray Moore of Ray Moore Motorcycles
220 Boulder Road, Kalgoorlie, Western Australia
08 90216527
Why are we the only people to know that it makes less power????
TECH
GSX1300r Hayabusa
Patented Factory Pro Velocity Stacks installation hints

We'll start with the assumption that you already can competently remove the fuel tank and airbox. If you aren't confident that you can do that, stop right now and get an experienced friend or pay a good shop...........

After you have the airbox removed, (ok, one hint is that the throttle body clamps clamp the airbox rubbers to the throttle bodies). - look at the stock rubbers from the bottom side - they are "offset" in the hole.

Remove the stock rubber velocity stacks. They are semi glued in with what looks like a light latex glue, so you'll have to kinda push the outer edge inwards till they collapse in on themselves - then push them on out.
Push into the airbox or out of the airbox - either way is fine.
(why do we write "in to" as "into", but, "out of" is two words and not "outof"?

Look at the Factory Pro adapter rubbers. You'll see that our rubber adapter rubbers are "offset" to one side, just like the stock ones.

Flip the airbox upside down.

Usually, there will be a dab of paint on the new adapter rubbers that you'll line up to the 2 index marks cast into the bottom of the airbox.

If there's not a paint dab, just remember, the "skinny side" of the adapter rubber lines up to the 2 airbox indexing marks.

To glue or not to glue the new adapters?

I don't glue them. They seal relatively perfectly at the airbox and then they clamp onto the throttle bodies. What more could you want? They can't rotate in the hole if they are clamped to the throttle bodies.....

Feed the new rubber adapter into the airbox.

Note! The patented stack's "Throttle Body Stuffer" tongue goes into the stock throttle bodies, retaining more laminar air flow and conserving refracting wave potential. So.... make sure the stuffer tongue is on the outside of the airbox.

If the paint dab wanders away from the index marks on the airbox, no worries (as they say down there) - Once you get the inside and outside lips "happy" above and below the airbox hole, we left just a slight amount of "wiggle room" and you can just rotate the rubbers back into alignment.

This is what it should look like.

Skinny side next to the airbox index marks and thick side of the adapter rubbers - away from the airbox marks - towards the front of the airbox / bike.

Stuffer tongue ready to insert into the throttle bodies.

This is the inside of the airbox view.

You can see the retaining female groove on the Factory Pro stack and if you were playing with the adapter rubbers and the stacks before you put them in, you'll have seen how the patented clampless retaining system works.

Finally, a real use for "Liplock".

Choices.....

You can either install the airbox onto the bike now and put the aluminum stacks on later - that makes putting the stacks into the rubbers easier by keeping the rubber from rotating in the airbox hole - OR - you can install the stacks into the rubbers and reorient the rubbers again before you reinstall the airbox.
Either way is OK.

The early bikes have a 2 piece airbox and the later ones have a glued together airbox. The one piece airbox is a bit more difficult to install the alloy stacks, especially if you've got large hands - but, still relatively easy to do. Especially considering the hp gain........

Anyhow..... inserting the stacks into the rubbers.....

If you are feeling the need for some lubrication, use a temporary water based lube, not oil based.

Almost in........

Wiggle, wobble, twist, and or manipulate the alloy stacks till they look like this.

In.

Once again, if the rubbers rotated in the airbox hole, just rotate them back to reindex them.

This is what your 2 piece Hayabusa airbox looks like with a BMC RACE filter and patented Factory Pro Billet Velocity Stacks installed.

The one piece airbox looks the same except you can't see the inside.

So - the hard part, installing the stacks, is done.

Now - if the airbox isn't already installed, just reassemble the airbox, put the stock throttle body clamps back onto the new adapter rubbers and put it back on the bike - along with the other parts that you took off.

Yes - we always suggest that you use a Genuine Suzuki Service Manual. It's the LAST WORD.


With new Superflare stacks -
Is fuel injection retuning needed?

We did the Superflaretm R&D with a properly tuned stock Hayabusa with a pipe on it. We did no additional fuel injection mapping during stack R&D - beyond originally tuning the "stock stacked" bike to Best Power settings in the first place.

The 6 to 8 True HP that we got in the upper mid was due to the stacks alone - as the mixture really didn't change much with the stacks.

Factory Pro Velocity Stacks work primarily by increasing the engine's dynamic compression - kind of like milling the cylinder head or slightly higher compression pistons.
Increasing compression doesn't require big fuel changes. Dynamic compression is different from cranking compression. Dynamic compression is essentially cranking compression + extra air that gets trapped in the combustion chamber as a result of proper intake tract (velocity stack) length, intake cam closing and also the effects of the exhaust systems in a RUNNING engine.
Dynamic compression effects are also related to rpm ranges - as intake ram charging; commonly occurs strongest over a 3000 to 3500 rpm range. (usually....)

Can you get less dynamic compression than cranking compression under running conditions?
Yes. If the resonant frequencies of the intake or exhaust systems are wrong, the systems can yank air back out of the combustion chamber before the intake valve closes (and you'd call that a "flat spot".

Our 'Busa stacks make it right.

Could you get better performance if custom mapping for the stacks?
Well, yes and maybe no.
If you tune your Hayabusa "to an air fuel ratio" on a dealership level dyno, you are virtually guaranteed to miss potential power in the real world.

To put it another way, drop them on a stock engined bike and woohoo!
Tune it to an "af ratio" on a dealership level dyno and less woohoo.

Proper tuning requires that the engine be tuned to Best Power and Engine Smoothness. There is potentially a difference of 6-7 True HP s compared to "af ratio".
Bikes from around the world - email here info@factorypro.com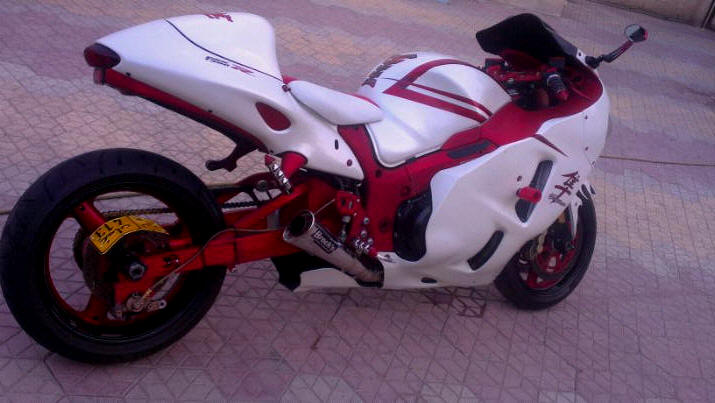 FAHAD AL LAMKI
Sultante of Oman
Cpu Computer Services