NEW 2011 Dyno Catalog!

EC997-13 industry lowest inertia - 174 lbs
EC997-20 Big Roller, low inertia dyno
EC997 Drag Race Dyno - dyno tow bikes at a time
EC997 ATV dyno - all the low inertia benefits in an ATV dyno - with MC option

EC997 MC Dyne w/ Integrated EGA and patented High Traction Drive Rolleria


Show with optional "Green Flash" package and optional aluminum Wheel Chock.

#1 Vesrah Racing, Jordan Racing and Suzuki NZ use the EC997 Dyne System.
note positive clamping front wheel chock and sturdy wheelbase adjustment.

Narrow 12" front wheel beam allows working on the bike while still on the dyno (saves time and safer than others)


AF1 Racing - Texas - Aprilia Specialists
Note yellow Single Strap Restraint system at footpegs


The most well developed High Speed, low inertia, 4 gas EGA Eddy Current Dynamometer in the world.

Factory Pro's
High Speed / Precision
EC997 MC Dyne Systems
w/ DLC

Best load control and software:
Not just "load control" - it's DLC, Factory Pro's exclusive Dynamic Load Control.
Rpm settling on target rpm is <1.5 seconds (it's all to my 2008 TUNING standards, not 30 year old legacy dyno hardware)


Best Sweep Test:
Our DLC systems absolutely and actively control sweep rate, accommodating engine power changes and flat spots, so 125's to 1400cc - all have proper loading, not uncontrolled sweep rates and heavy drive roller "Neanderthal" technology.


Best Data Recording:
All automatic recording - no silly buttons to push to record data. The computer is quicker than the dyno operator, in this case......


Best Traction:
Patented slotted drive roller - Ask other dyno guys if tires slip on Busa's, zx14's and pumped gsxr1000's and R1's - if they say "not a problem" - they are lying - but our patented roller doesn't slip with, at least up to, AMA spec 1000cc hyper bikes.......

2008, Feb. Dynojet just sent out an email showing other brands of dynos and tire slippage on those other dyno brands. They claimed the "they" have the "best traction" (arguing that implies that the "other dyno companies" haven't figured out to knurl a drive roller in 50+ years)......... I guess that they forgot to ask Dusty and the other DJ guys that ran their dj dyno at the AMA Races......... and when they loaded 2 people on a bike at Road Atlanta, they used one of the "largest dudes that I'd seen that weekend" as the second guy - With 2 guys AND super tightly strapped - it still slipped. It was a long weekend and I was napping in the truck w/ the AC on. Paul Riccio was in the passenger seat, eating lunch - He woke me up with "Awww... heck - Dynojet's got Traction Control." I opened my eyes, because I'd never seen dyno traction control, to see a ~300# DJ guy leaning over the back of the bike for more weight.......... still slipped when it hit the powerband.

In those youtube movies that were in that dj press release, they showed a bunch of "other" brand dynos with dj style "knurled" driver rollers, slipping - but - but! There was not a single youtube movie of the patented Factory Pro slotted drive roller slipping.

On the pateneted Factory Pro drive roller, you can even be doing a full throttle, Steady State test at 130 True HP levels - throw 32 oz of water on the tire / drive roller. It goes "whoop!" for an instant and then immediatly settles back into full traction. And that's even on an almost 15 year old Factory Pro drive roller!

Let's see the their movie of "DJ good traction" in a steady state test and a 32 oz dump of water on the drive roller on a 15 year old dynojet!
You'll never see it - because it's impossible.

Best Front wheel chock:
Holds the bike up, with or without straps (unlike floppy dealership dynos)


Best bike work height:
Able to work on the bike on the dyno as it's only 12 inches high (compared to unsafe 18 to 20 inches on other dynos)


Best Front Wheel Beam:
You can walk right up to the bike, as the front wheel beam is only 12" wide instead of other company's space wasting rectangular dyno chassis footprint.


Best tuning support:
(just ask the dealership dyno guys how to tune beyond "air fuel ratio" or how to tune for best power..... or how to tune)


Emissions:
Factory Pro has maintained the world's largest 4 gas EGA emissions tuning database, including initial, intermediate and final data.


We have the best, easiest to use at the highest level dynos, but not the cheapest (nor the most expensive, either)


And
Tunes:
Teka 4usb to Best Power and Engine Smoothness
Power Commanders pc3usb, pc3r, pc2 to Best Power and Engine Smoothness
Teka SFI to Best Power and Engine Smoothness
Teka 2sb to Best Power and Engine Smoothness
RapidBike to Best Power and Engine Smoothness
HD Race Tuner to Best Power and Engine Smoothness
S&S to Best Power and Engine Smoothness
Magnetti Marelli FI to Best Power and Engine Smoothness
Motec to Best Power and Engine Smoothness
EFI Technologies FI to Best Power and Engine Smoothness
Walbro to Best Power and Engine Smoothness
Honda HRC ECU's to Best Power and Engine Smoothness
Kawasaki KRT ECU's to Best Power and Engine Smoothness
Suzuki / Yoshimura EMS to Best Power and Engine Smoothness
Yamaha GYT/Race Kit ECU's to Best Power and Engine Smoothness
FIM to Best Power and Engine Smoothness
Keihin and Mikuni and S&S and Edelbrock carbs PERFECTLY.

to TRUE HP LEVELS

and, yes, you could still "tune to an af ratio", too - but after retuning a few "tuned to an af ratio" bikes and listening to your customers' new, more satisfied reports of cruise smoothness and mileage improvements, you'll leave the dealership level dyno guys behind and never think of "af ratio" again -

Does it take longer to tune to Best Power and Engine Smoothness as compared to "autolink" "tune to an af ratio" on a dealership level dyno?
Not really. A TEKA 4 or pc3usb on an HD can be tuned to Best Power and Engine Smoothness in less than 30 minutes - as compared to about the same time, but still only kinda "close" to right on the tuning with DJ "autolink".

The Factory Pro EC997 Dyne Systems are not:
one trick ponies designed to sell the dyno manufacturer's own boxes to the exclusion of easy tuning on other products - They are not common, simplistic "tune to an air fuel ratio" elementary level dynos - These are well developed systems designed for optimal tuning using any FI or carb system you can get the software or parts to tune - ands amazingly, they are often simpler to use than silly "AFR" auto-tune dynos.

Too good for your customers?

I hope not.........

Marc

MORE mighty EC997 INFORMATION - click here

Forum Dyno Threads

V-TwinForum.com





Want a quick quad built and tuned?
Naumes Oregon Motorsports, Medford, OR


Vickery Yamaha - Bill can tune just about anything with years and years of experience - Denver, CO

EC997 MC / Quad / Kart Dyne
w/ DLC


High Speed, low inertia Eddy Current Dynamometer

Use the same dyne for 2 and 4 wheeled vehicles.
Motorcycles
Quads
Karts

Use for facilities that work on Quad and motorcycles, such as Vickery Yamaha in Denver and Naumes Oregon MS in Medford, OR.

Similar to the same sturdy chassis as the Formula USA Standard EC997, but with dual ACTIVE, LIVE COUPLED, SLOTTED drive rollers
(patented slotted design delivers 33% better traction than knurled drive rollers without tire damage as in knurled drive rollers).

As used by Vickery Yamaha, Denver, CO and Naumes Oregon Motorsports, Medford, OR.

2008, Feb. Dynojet just sent out an email showing other brands of dynos and tire slippage on those other dyno brands. They claimed the "they" have the "best traction"......... I guess that they forgot to ask Dusty and the DJ guys that ran their dj dyno at the AMA Races......... and when they loaded 2 people on a bike at Road Atlanta, they used one of the "largest: dudes that I'd seen that weekend" as the second guy - With 2 guys AND super tightly strapped - it still slipped. It was a long weekend and I was napping in the truck w/ the AC on. Paul Riccio was in the passenger seat, eating lunch - He woke me up with "Awww... heck - Dynojet's got Traction Control." I opened my eyes to see a ~300# guy leaning over the back of the bike for more weight.......... still slipped when it hit the powerband.

In those youtube movies that were in that dj press release, they showed a bunch of "other" brand dynos with dj style "knurled driver rollers, slipping - but - but! There was not a single youtube movie of the patented Factory Pro slotted drive roller slipping

EC997
Legend Car Dyne Systems
w/ DLC

Blast yourself far beyond the other dyno guys who think that "tuning to an AFR" and a good "4th gear wack" is the extent of "good" tuning.


The Factory Pro Legend Series dyne system is specifically designed for Legend Cars and vehicles of the similar size and power.


Drum spacing is 64" outside-to-outside and it, like all Factory Pro EC997 series dynes, is a "brake" dyne system and NOT an inertia "dyno" like other dyno manufacturers palm off as "state of the art".

Because it's not an inertia dyno, you can actually tune optimally, and not to grade school "air fuel ratio".


Over 18 years ago, Factory Pro engineers designed and developed what has now become, not the "industry standard motorcycle chassis dynamometer", but the Best Dyne systems to use for day to day tuning - and - for high accuracy R&D for engine builders, pipe builders, turbo and nitrous tuners.


The Factory Pro EC997 Dyne Systems were built to be used to combat erroneous dyno data from cheap inertia dynos. Data from inertia dynos was often times significantly different from what worked Best on the street or track - and as a research and development tool for Factory Pro's #1 AMA choice carburetor kits and ignition advancers.
Currently, there are over 100 units worldwide and the rest of the world is still bumbling around "tuning to an air fuel ratio".


Chassis dynes eliminate the need for engine removal for power testing and tuning, the vehicle mounting time is less than 5 minutes - as the EC997 systems are 6" lower than the dj dynos.

Claiming that "a technician can then perform a simple 10 second test and examine the results right in the shop" is a ridiculous claim (and WE don't claim that). You can't even do a sweep test form low to high rpm in much less than 10 seconds, and even more, slow that 900# heavy drive roller back down to a stop on the "claimant's" dyno in 10 seconds.


So - no, you can't do a 10 second sweep and get any decent tuning information - it'll take us about 5 minutes to do a complete set of steps and then, using Factory Pro's 4 gas EGA information, figure out jetting, fuel injection AND ignition timing information.
You'll get 4 times the tuning information in 5 minutes of EC997 testing - allowing you to make more changes after just 1 test - ultimately getting more work done, to a higher standard with minimum engine "runtime".


Utilizing the EC997's unique "Power Smoothness" software, the dyno operator can evaluate the entire drive train for the purpose of routine servicing or performance development. That's unknown on competitor's dynos.


The EC997 Legend Car Dynamometer gives you the technology beyond "State of the Art", Heavyweight steel durability (not stamped out sheet metal), and all the accuracy that you want, all at an reasonable price. Not cheap as a misleading inertia dyno....\


Factory Pro's Northern California location, in close proximity to the world renowned Silicon Valley, provides us with access to the latest and most technologically developed chips and microprocessors to deliver all the True HP precision in power measurements that a motivated technician needs to make quick and accurate evaluations of engine tuning and drive train performance. This allows even a dealership level user to maximize your shop's potential with increased sales, service efficiency, and shop credibility.


The EC997 dyne system's durable, maintenance-free construction ensures that you will be investing in many years of flawless tuning and troubleshooting.


If you care about being the best, using the best equipment and doing the best possible job for your customers and product design to gain your reputation, the Factory Pro EC997 Dyne Systems are the #1 choice.

no picture yet
EC997 Quad / Cart Dyne / MC (mc optional), trailer model
w/ DLC

with or without MC adapter
Special, no slip, toothed belt driven Eddy Current Brake dyne system
only 75" wide - fit's between standard 76" wheel wells

As used by Riva Yamaha and Two Boys Racing



Use the same dyne for 2 and 4 wheeled vehicles MOBILE.
Motorcycles
Quads
Karts

Factory Pro's new model multi-gas EGA

Sealed Stainless Steel case - not affected by corrosive exhaust
Hi volume - dual fan cooled
3 Quick Flip filters for quick change action
Hi volume Integral Water Separator
Hi Volume exhaust sampling for clean, true measurements
Auto Zeroing to atmosphere (no calibration gas required)
Built to current USA EPA test standards

Quickest Reading Hi volume integrated system in the world.
Fully integrated 4 or 5 gas EGA
Well, well, well!
It's 2008 and the motorcycle dyno industry is 90%, still in a horsepower mess.
You read one motorcycle magazine and see that the new, current 1000cc sportbikes are making over 170 to 179 rear wheel horsepower on their "engineering" level dyno - Wow!!
Then you see another magazine that the same model bikes of the same brands are making 160 on another brand dyno!
Then you see another magazine test and the bikes make, even still, more different hp numbers!
Then you take your new 2006 1000 and go to your local dealership level dyno and get a less than 160 "hp" reading and then - you go to a dealership level dyno at another and get a 5% higher or lower reading than that - even on the same brand dyno!!
So - either one magazine is getting special "magazine bikes" and the other.... or..... is that it? Does the weather affect the hp THAT much? Does your bike gain and lose 5% power as temp changes 10 degrees?
Can't SAE correction factors correct for that? (yes, SAE correction factors work quite well).
Well, well - What's going on with the dynos is that some dyno companies aren't so good about calibrating their inertia dynos (even if there is an eddy current "retarder hung on the side) for accurate HP readings and some other dyno companies try to inflate their HP readings to match the wandering values of the first company..... then the new guys are trying to do the same inflation deal to match a wandering scale of the first company......
That's pathetic for the industry and it makes it utterly useless to take hp figures and compare them.
SO!
What with the HP inflation factors?
We built eddy current load motorcycle dynamometers that measured power under a load before these other guys and We had to make a physics / moral decision in the early 90's as to whether we would try to match the inflated hp numbers of the inertia dynos or...... not....
We already knew that each of these company's dynos tended to read different - up to 4% to 6% different in power readings. Even a strong magazine did a test to expose that - but the USA magazines ignored that and it seems that they have, at best, fell back onto the old "you have to use the same dyno" if you are doing development work.... So... What's that mean if they publish HP numbers that don't really equate to what you might get on your local dyno?
What's the point of confusing and disappointing the public?...
We also knew that, unless we put an 18" diameter, concrete filled, ~900 lb. drive roller on our dynos, that it's absolutely impossible to duplicate the load condition that the other company's dynos - and, therefore - since that would destroy the fine measurement ability of our systems and increase engine wear due to the increased time to get the drum up to speed so we could tune to best power - that wasn't an option - so.....
We decided to make the EC997 dyne system read out in
"True HP scale".
I never thought that I'd have to specify that our information was on a "True" scale - but - so be it!
The other dyno companies can complain all they want, but - they each have the ability to provide the real numbers and they can read out in True HP, also..... so it's their choice as to providing real or inflated numbers to a wandering scale.
True HP:
Power delivered to the patented, slotted drive roller
corrected to SAE standards.
Period.
no fluff. no bull.
If you are a potential dyno customer - and are tired of the malarkey in dyno readings -
Factory Pro is your company of choice.

Official HP Interrogator of F-USA!!
---
The Eddy Current Dyno Specialists
March was a great month - met lot's of great people - good tuners and people that will evolve from darn good to great tuners with their new Low Inertia EC997 Eddy Current dynes and Teka SFI equipment.
Gary and Jason stand out as dedicated to their work and if you know a Gary or a Jason - you might check out if they've got a new "tool" to help them help you!
On the other hand - as the yin and yang of life goes - We also met some people who weren't at all interested in why or how their product worked - or if it worked well at all!
Well - that's right, you guessed it... The EC997 showed them what was wrong and right with the product. Ooops. Crestfallen. A little bit of probing - Well, the product will never work well enough for me to say that I'd use it, as it is. And if I wouldn't use it - I wouldn't sell it, either.
Did they want to fix it? No! Wow. They just wanted to see big power increases with their product.
But with really good marketing (and, production-wise, they good at that!)- I'm sure that they can sell enough to cover some costs - but - not to me.
The "correct" parts of the concept are similar to what we've been working on for a few, long years in the Teka EMS system. Using an existing analog signal to generate a different ECU output has been around for some time now - and for a lot less than they thought that they could sell their thing for.
They had to buy a different dyno that showed them that they had a great product to sell! See it soon! I'm sure they will call it "state of the art"!
Probably in an HD or Cruiser magazine.
Lamest question regarding dynos?
"If there were two brands of dynos and there was race to see who could do a run first, who would win?"
WOW! Lessee.... Did you want to type in the customer's name? bike type? carb or FI settings?
No, just "Who could make a run first."
Exhaust? Did you want high accuracy? Just "Who could make a run first."
Repeatability? Just "Who could make a run first."
Are you trying to tune or just snag $40 from the rider or are you going to try to test and be able to help the rider make the tuning better?
Just "Who could make a run first."
Truth be told? ("they" don't!)
The EC997 dyno, in Sweep Test , takes no more than time than other dynos and less than most, if you have to load the bike (only takes 1 person), strap the bike down (1 tiedown ratchet straps both sides of the bike down evenly, 1 person), and even if you use rpm (which they don't usually).
Less time. Most of the time.
In a Step Test?
The EC997 - being tuner oriented - First - can actually do those 2-3 second powered realtime power tests easily in steady state mode (steady state is where you get the most power and gas information), unlike some "other" dynos. Imagine changing 3 different PID loop values to try to get the dyno to hold a steady rpm under load at each rpm stop point!!! (ask math teacher or "other" dyno operator who can actually do a step test) - Our owners don't even know what a PID loop is - because our EC997 dynos never need to be fiddled with!
And as far as time? Wow.
First - they'd actually have to be able to do a Steady State Test!
Repeatability? Step Tests? Ours?
As good as +/- .2 True HP when properly tuned.
Enviable in the industry. So rare that "they" say it can't be done.
The EC997 gives more information, in less time - enabling better quality work to a higher level - in less total time - with higher customer satisfaction.
If all I could ask was "How quick can I get that guys $40." and duck the "tuning" concept......
DO NOT buy this dyno.
If you think that you can't make a power commander Fuel Injection ignition or fuel change and see what happens to power so that you can spend an hour or so precisely dialing in a map for best POWER - not a auto dialing ficticious (wrong reading) "A/F Ratio" generated improperly by a short-lived, fragile, expensive O2 sensor in a half an hour......
DO NOT buy this dyno.
For less than an hour's labor - an EC997 dyno owner/operator will do a complete set of tests and provide a multi-point analysis of tuning - including:
fuel mixture at each rpm and throttle position
ignition timing
cylinder fuel stagger
engine smoothness at cruise (Flux factor)
and an estimation of possible changes and power gained.
and
The EC997 dyno owner will have gained a customer - because they provided useful information for the bike owner.
The EC997 has the ability to deliver the information to deliver the BEST possible performance - easily.
It's the ONLY dyno that can.
Tuning is my life.
I am happy to not be associated with a company that really doesn't care about tuning product quality.
March 02 was a great month!
Marc Salvisberg
Low Inertia EC997a Eddy Current Dynamometer
Just like 1989, when Factory Pro entered the one-brand dominated carb kit world, when we had to throw out what the motorcycle industry had come to be resigned to expect from carb kits, we had to reinvent the dyno and reeducate mc tuners on how accurate and quickly they could provide superior power and mileage for their customers.

Unlike dynos with heavy, 900lb. drive rollers, the EC997 is relieved of high system inertia. The Low Inertia EC997 Series will display the roughness of even 1 cylinder slightly missing - allowing you to isolate even 1 poor cylinder - saving hours of labor caused by blind guessing on other dynos.

NO other chassis dyno comes close.

Fact.

How does the EC997 compare? Click here

---

Subject: dyno/ega
Date:Tue, 10 Jul 2001 16:40:52 -0700
From: "Robbie Hoyt" <rapidrobbie@hotmail.com>
To: marc@factorypro.com

Hey Marc,
I got the new CD / EGA program on Monday from Thomas. The dyno/ega is working great. I really appreciate all of your help!

Raised the needle on my YZFzr like you suggested and that surging at 5-6K is gone.

Thanks -

Robbie Hoyt
AFM#206
YZFZR1000 Super Tank


Ricci Motorsport Group
Jimmy Moore AMA top ranked 750 SS

Virtually infinite computer and manual load control.

Nearly 10 years of tough research use. 10 years of refinements...

Factory Pro Dyno Center locations
click here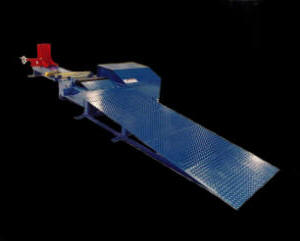 Freshly manufactured EC997 at Ohio plant
(shows standard removable 7'x3' walk up loading ramp in place. Note- ramp should be moved ~6" to left if you load on LH side of bike)
Vectrix Corporation - Alternative Power Research

EC997 Software
Windows 95/98 32 bit version
12/15/98
Programmable sweep rate range increased
(down to 2 fps/s)

manual sweep start deleted
(no more hitting buttons to start and stop test)

sweep test auto start / auto end feature added

network test view feature added
(view files on network, print to fax)

remote location file storage feature added
(store confidential files on ZIP disc?)

Wizard style test added
(auto guide)

auto path correction feature added
(auto change internal file path)

DDE data transfer feature augmented

Ultra high resolution sweep @ 1k-3k, enhanced
(useful for diagnosing fuel levels and base diameter on needles)

Default Graph Screen Window Setup added
(for easier screen layout on initial software installation)

Motorcycle Dynamometer Information
What is True Rear Wheel Horsepower tm? Click here to find out!
This web site has recently been visited by
people.
Thanks to www.digits.com for the counter.
| | | |
| --- | --- | --- |
| (°F) | (°C) | Notes |
| 212 | 100.0c | Water boils |
| 100f | 37.8c | |
| 90f | 32.2c | typical Singapore temps in dry season |
| 85f | 29.4c | Temp req. for iguanas to properly digest food |
| 80f | 26.7c | Minimum recommended iguana habitat temp |
| 70f | 21.1c | Average room temp |
| 60f | 15.6c | |
| 59f | 15c | STD air temp |
| 50f | 10.0c | |
| 40f | 4.4c | nippy |
| 32 f | 0.0c | Water freezes |
| 20f | -6.7c | |
| 10f | -12.2c | |
| 0f | -17.8c | |

How To Convert Temperatures Chart

Fahrenheit to Celsius
Celsius to Fahrenheit
1. Subtract 32 from degrees Fahrenheit
2. Multiply by 5
3. Divide by 9

or as I remember it:
Subtract 32 because F is "too big" anyway. Then the 5 and 9? Since F is still "too big", you use the 5 and 9 as 5/9 and multiply whatever you got after subtracting the 32 by 5/9th's.

1. Multiply degrees Celsius by 9
2. Divide by 5
3. Add 32

or as I remember it... The formula is upside down and reversed from the F--C equation.
So - multiply by 9/5 to make the number bigger.... and then add the 32. Everything you do makes the number bigger and it's in reverse order of F-C.
New and improved Suzuki Teka SFI 2

with new TPS display and "MMT" Memory Module Tuner

Finally - Quick, easy, cost effective Suzuki tuning with no expensive "add-on boxes"
Suzuki cruisers and sportbikes

Contact Factory Pro
M-F, 9am - 5pm, Pacific time, -7 or -8 GMT

800 869-0497
USA and Canada

415 491-5920

fax 415 492-8803

parts information
info@factorypro.com

EC997 dynamometer information
info@factorypro.com

Product Support /Tech SECTION
click here

Mailing / Shipping address:



Factory Pro
179 Paul Drive
San Rafael, CA 94903
USA

And most importantly
Restart back at the HOME page and click on the red box in the top left to find the bike that you want parts for...
restart at HOME page

This Tuning Site has been visited by

people.
www.gigits.com - the oldest counting service on the web

LINKS
EFI and Carb Tuning - Most all FI and carb tuning

by Wheelsmith Racing

The Harringtons own

American Flyers

, one of the most established flight training facilities in the USA.

8 locations

800-362-0808

Flight Training - train with AMA race winner Todd Harrington.
Insurance ONLINE QUOTE
Clearinghouse

Get ONLINE realtime quotes from multiple companies - One Stop MC, auto, home and more from insurance companies you know and trust.

The Rich Oliver Mystery School will help you discover your hidden inner strength.
It will challenge you. It will teach you a new way of thinking, and a new way of riding. You can take your riding to an exciting new level!

We use a variety of proven drills and training techniques.
Practicing these techniques with our Yamaha dirt track trainers will enhance your abilities both on the track or the street.

It doesn't matter what you ride or race, the Rich Oliver Mystery School improves everyone's skill level and mindset!
Make your next tour Unforgettable, Affordable and Exotic.
Superbike Tours Thailand - See you there.

Geoff@superbiketoursthailand.com

2013 Flying Special!

Book a sightseeing flight over the Wine Country or a Kamikaze aerobatic flight or a biplane flight over Infineon Raceway, the Golden Gate Bridge and the San Francisco Bay for one or two during the spring and get a free souvenir t shirt!
(NEW! Ask about the P-40 flights!)

707 938 2444

Just say that you saw this on the Factory Pro website!
Marc
Northern California's most unforgettable flying experience. No experience required. Open weekends!

Artisan Crafted Fine Cheeses – Since 1865

Specializing in Handmade Brie & Camembert

Marin French Cheese Co., also known as The Cheese Factory and Rouge et Noir is not just the oldest cheese manufacturer in the country, but a vacationers and day trippers destination as well as a unique part of American History. Located north of San Francisco, east of Napa County, west of Pt. Reyes and Olema and south of Sonoma County, Marin French has produced hand crafted Artisan soft ripened cheese since 1865. Rouge et Noir cheeses are similar to French and European varieties but reflect the characteristics of Northern California, producing it's own regional style.
The extension of the laboratory for engines of the Swiss Federal Institute of Technology was completed in about 1935. Its architect was Rudolf Otto Salvisberg (1882-1940). He had a successful career in Berlin but returned to Switzerland after the advent of the Nazis. His architectural style was somewhat similar to that of Erich Mendelsohn. The staircase of the laboratory is in normal use but well preserved.
Edited to the tunes of Chemical Residue by Herbie Hancock.

Maybe in next rewrite, he'll fix the ignition timing and dyno chapters...
Otherwise great book with great starting ideas.

My bible


The little blue bible for quick references and little known facts.